Residents of 3 upazilas benefit from the century-old haat
Producers and traders use boats and trawlers to bring agricultural produce to the Boithakata Floating Market on the Belua River in Pirojpur. They rely on the haat twice a week to sell their wares. The photo was taken recently. Photo: HABIBUR RAHMAN
">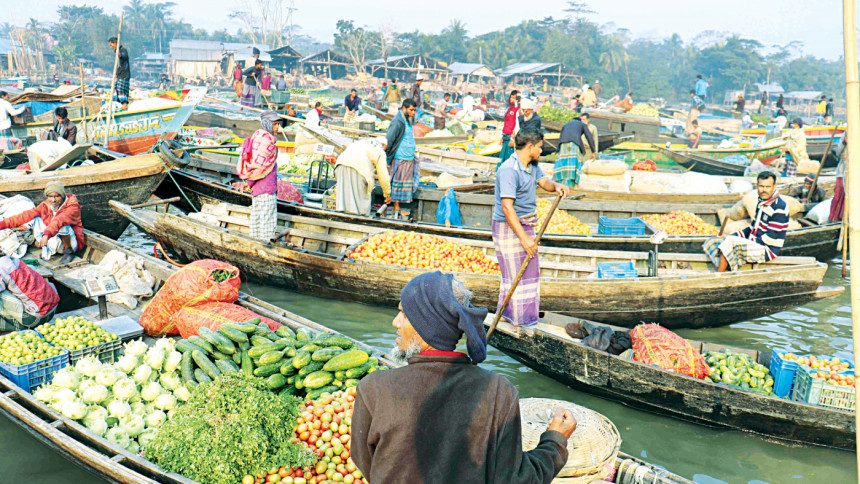 Producers and traders use boats and trawlers to bring agricultural produce to the Boithakata Floating Market on the Belua River in Pirojpur. They rely on the haat twice a week to sell their wares. The photo was taken recently. Photo: HABIBUR RAHMAN
The Boithakata Floating Market on the Belua River in Pirojpur has developed into a major hub for wholesalers, as many people directly depend on the century-old market as their main means of trade.
Said to be the largest floating market in the south of the country, it connects the upazilas of Nazirpur and Nesarabad under the district of Pirojpur and the upazila of Banaripara of Barishal and stretches about a kilometer from the river under the upazila of Nazirpur.
It sits twice a week: Saturday and Tuesday.
Residents of the three upazilas rely directly on the market to sell their goods to wholesalers. They bring their products in boats or motor trawlers.
Local businessmen also bring products from other parts of the country to the market. People from remote areas also come to the market to buy seasonal products.
Although the floating market remains active all year round, it is busier during the winter season when vegetables produced in the swamp and vegetable seedlings grown on floating nurseries become available.
Rice, puffed rice, coconut, straw, eggs, poultry and other products are also sold here.
Before the sun rises, people with goods loaded into small boats rush to the market. At 11 a.m., they return home after completing their trading activity.
No one can say exactly when the market was established. But locals assume that the age of the market is not less than a century.
"I have been coming to the market since my childhood," said Md Abul Kalam Akan, a 70-year-old local farmer, adding that his father, as well as his grandfather, also used to come to the market to sell goods.
Another septuagenarian Mohammad Younus says the market was initially established on a small scale and grew over time.
Today, the market has turned into a major business hub where goods worth more than Tk 30 lakh are sold every day, according to businessmen.
Sales exceed Tk 1 crore when watermelon, mango and pumpkin hit the market, said Md Masud Rana, general secretary of the bazaar management committee.
After purchasing produce from the market, businessmen transport it to districts such as Barguna, Patuakhali and Barishal.
"According to the seasons, we buy fruits including mangoes, guavas, jujubes and watermelons and vegetables such as potatoes and pumpkins from different parts of the country and sell them here," Imam Hossain said, a wholesaler.
Md Abdur Rashid, a businessman, says they sell locally produced rice in the market as it is the biggest market in the area.
"We can easily sell all types of products in the market," said Abdul Khaleq, also a businessman.
According to Md Kamal Hossain, a wholesaler, several thousand people, including producers and wholesalers, depend on the market to earn a living.
"The market plays the most important role in the economy of our region."